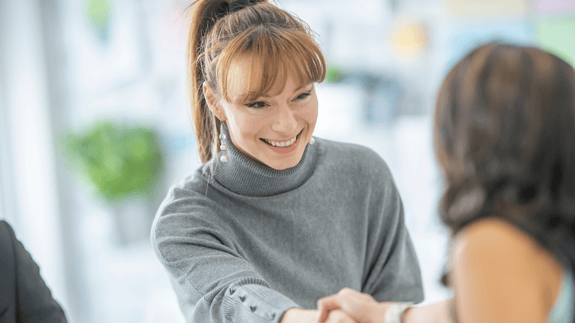 CLIENT STORIES
The highest endorsement Glacier can receive is for our clients to meet - and surpass - their goals. Learn about some of our success stories and discover how our higher education advertising strategies can help your institution attract students and gain more applications.
GENEVA COLLEGE
Increasing Inquiries and Prospects!
"Working with Glacier was a big deal for our marketing and enrollment team. In the first year of our campaigns, we saw a dramatic increase in inquiries from the populations we were targeting. For most of the schools on which we focused our efforts, we saw almost double the prospects and inquiries in our funnel from the previous year! We are very pleased to be able to partner with their team."
Caleb McCracken, Assistant Director of Integrated Marketing, Geneva College
SURREY SCHOOLS
Raising Awareness for High School Students
"As a district that encourages higher education and future career success for our learners, we have worked with Glacier Communications since 2014 to display information on post-secondary institutions in our schools. The Glacier Communications team collaborates with our Career Education Department to ensure each piece displayed raises awareness and fosters discussion about a range of post-secondary options. Surrey Schools works continuously with organizations like Glacier Communications to provide information on opportunities to our learners."
UWC-USA
Digital Lead Generation Campaign
"I had the privilege of working with Glacier on our 2020 Admissions Marketing Campaign. It was the first initiative of its kind for our school. With a small budget I was not sure I would be able to find a vendor with expertise to help us develop a plan. After talking with several other agencies, I knew, based on Matt Diteljan's thought-leadership that we were in the right hands. Over the course of 10 weeks Glacier executed a flawless campaign. During that period of time, our project manager (Dan) and digital strategist (Vanessa) made real-time analysis decisions to ensure that creative testing recommendations resulted in goal achievement that was four-fold of what we contractually agreed upon.

The team at Glacier was always accessible, highly professional and provided ongoing Zoom and Intelligence reporting for Executive Management. Though the campaign is over, we are still working admissions leads."
COAST COMMUNITY COLLEGE DISTRICT
Digital Platform and Client Care
"There is not a company out there today who does not offer some variation of a programmatic package. With all the offerings, it was just a matter of finding a company that stood out from the crowd. Enter, Glacier Digital. The Glacier difference is service, delivery, and results. Working with the team at Glacier Digital has been seamless from start to finish. Communication is always on the top of our list of importance when working with outside companies and Glacier has been transparent and open with our team from the get-go. Once contracts are signed, it seems that far too often, companies will fall into the shadows and lose touch with their clients. This is not how Glacier functions. They check-in and keep in touch to make sure that everything is going smoothly and needs are being met. It is really great to work with a company that we trust!"
LOS ANGELES COMMUNITY COLLEGE DISTRICT
Enrollment Increases by Thousands of Students
"As the Director of Communications and External Relations for the Los Angeles Community College District, I needed to capture the attention of high school students across 60+ high schools in Los Angeles County – 900 square miles. I wanted something unique and that would increase the brand awareness of our 9 community colleges. When I first learned about Glacier, I knew their direct approach would reach this tough-to-connect-with teenage audience. Together, we built an advertising strategy to help students – many of whom would be the first in their family to attend college – understand how a college education would change their lives and how easy it was to attend an LACCD institution.

The results we have started to see are tremendous with enrollment increasing by the 1000's across our college campuses. I would high recommend reaching out to Glacier to see how they can help you!"
OCAD UNIVERSITY
Glacier High School Wall Advertisement - Wins Award and Turns Heads
"In 2017 we placed advertisements in eight GTA high schools. The first advertisement was an outside-the-box, interactive poster built to drive awareness about OCAD University which won an ad award for creativity. The second, we switched to a call to action for our open house. As a part of a broader marketing campaign, the posters contributed to a 25% increase in attendance to the open house. Nearly 200 students used the unique call to action on the ad, a much higher number than expected. "
VANCOUVER FILM SCHOOL
Glacier Digital Advertising - Best in North America
"We've used a lot of programmatic tools and companies with little success, but Glacier made it profitable for us. We had the pleasure of working with Glacier on VFS awareness campaign for events. They took the care of understanding what the goals, resources, and specs were, and effectively contributed to the whole marketing mix. Glacier was able to target the desired audience and achieved the lowest CPA."
PORTAGE COLLEGE
Award-Winning Recruitment Tool
"Glacier provided us with an award-winning recruitment tool and we couldn't be happier. The 360 virtual reality video allows prospective students to tour the college's campus without having to physically set foot. The video has proven to be very popular at recruitment events with long line ups for students to try it as well as on Veer.tv where the video has already received more than 11,800 views. "

http://www.portagecollege.ca/News/News-Archive/Innovation-of-the-Year
DOUGLAS COLLEGE
Effectiveness of High School Ads
"Over 51% of high school students recalled seeing our high school advertisements that Glacier did for us. This is the highest viewing percentage across all media outlets for us including digital and traditional media. We were blown away from the effectiveness."